Here is space for all the great ideas of our PhD/MD students and Postdocs. All cbbs gp members are welcome to join the groups.
Mindfulness Club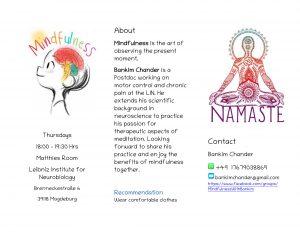 Organized by: Bankim Subhash Chander
I am a Postdoc working on motor control and chronic pain at LIN. I also extend my scientific background in neuroscience to practice my passion for therapeutic aspects of meditation. Looking forward to share my practice and enjoy the benefits of mindfulness together.
Facts:
The club will be about therapeutic aspects of meditation. In cosy clothes, the participants will meet once a week and start with a 15 min Journal Club, followed by 30 min office Yoga and 30 min meditation (times are flexible, up to 90 min).
Place: LIN, Matthies room
Time: Thursdays, 6 p.m.
check our calendar for upcoming sessions
Music Club
Organized by: Asli Sengezer
I am graduated from Medical School and now doing my further Master Thesis study in Neurology Department as a Master of Science student in Integrative Neurosciences. My study subject is subjective cognitive decline in cerebral small vessel diseases. During my medical education I have attended piano and singing lessons and experienced that it helps overcoming stressful conditions before exams and also during our ongoing studies. I am thinking that science is not only part of statistical analysis, physics or biology but also with musical activities we can improve our cognitive functions. I am planning to create musical activity group for enthusiastic and talented young scientists who wants to learn new instruments from each other or also further develop their skills from qualified music teachers, this group will also demonstrate their skills in future scientific organisations and represent our institute in other scientific organisations.
Facts:
playing music together
learning instruments from each other
Place and time: tba, once a week
Start: January 2020
SimpleNeuro- Blog of LIN PhD students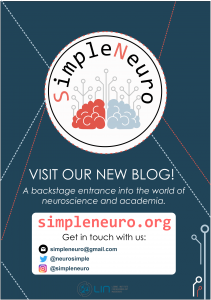 The project simpleneuro.org was launched about a year ago by Marina Zempeltzi and Marcel Brosch and many new faces have since joined the crew. A team of around ten young researchers set on making this blog a lively one. Expect more articles to come in a regular way every month.
Do not hesitate to spread the word around as everybody needs a bit of science in their life and sharing is caring.
If you are interested in participating, or have ideas or suggestions, you can contact them at: simpleneuro@gmail.com.
You can also find them on: Twitter: @neurosimple, Instagram: @simpleneuro