In October 2019, the CBBS Graduate Program started its own monthly lecture series: CBBS GP Ringlecture. We expect great talks given by CBBS members about their own research, cutting-edge technologies used on the campus and trouble shooting to give you an overview about ongoing research on the Campus of the Medical Faculty.
The lectures are open for all CBBS GP members. Sign in here to become a member.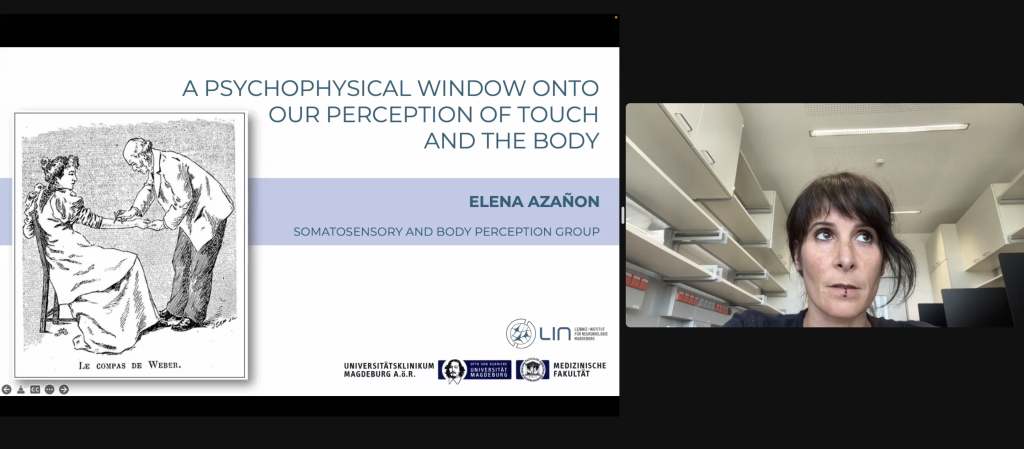 The ring lecture takes place monthly at Thursdays 1 p.m. online via zoom.
17.10.2019 – Dr. Michael Kreutz: "A synapse biology view on neuroscience"
28.11.2019 – Prof. Dr. Markus Fendt: "Neuropharmacology of emotional and cognitive systems underlying neuropsychiatric endophenotypes in rodents"
05.12.2019 – Dr. Esther Kühn: "The architecture of the human somatosensory cortex"
23.01.2020 – Dr. Janelle Pakan: "Peering into the brain in action"
27.02.2020 – Dr. Martin Riemer: "Age-related changes in the processing of time and space"
21.01.2021 – Prof. Dr. Thomas Wolbers: "Using virtual reality technology to understand mechanisms of cognitive aging"
25.03.2021 – Prof. Dr. Nicole Wetzel: "Development of attention: A neurocognitive perspective"
15.04.2021 – Jun.-Prof. Sascha Benjamin Fink: "Structural Constraints in the Search for Neural Correlates of Consciousness"
29.04.2021 – Prof. Dr. Daniela Grimm: "Human Cells in Microgravity"
27.05.2021 – Prof. Dr. Bernhard Sabel: "Vision restoration through brain plasticity"
01.07.2021 – Dr. Katharina Rufener & Dr. Philipp Ruhnau: "Transcranial electrical stimulation: basic mechanisms and clinical application"
15.07.2021 – Prof. Dr. Oliver Stork: "Molecular and circuit mechanisms of fear memory formation: relevance for PTSD"
14.10.2021 – Prof. Dr. Anne Albrecht & Dr. Anke Müller: "Autophagy mechanisms in stress-induced neuro- and psychopathology"
11.11.2021 – Dr. Guilherme Gomes: "Voyage to the center of the neuron"
02.12.2021 – Prof. Dr. Tania Barkat (ALBA Network member, University of Basel): "Plasticity in the juvenile auditory system"
24.02.2022 – Dr. Gürsel Caliskan: Functional Lateralization in the Rodent Hippocampus
16.06.2022 – Dr. Elena Azanon: "A psychophysical window onto our perception of touch and the body"
Upcoming lectures can be found in our calendar.