Perspectives for women in life-sciences.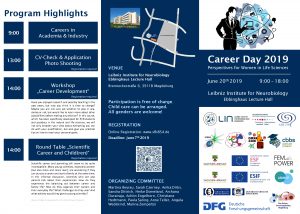 Take the chance to get information about several career opportunities and sharpening your soft skills and networks.We have invited several notable speakers coming from academic and non-academic sectors.They will give presentations in which they will reflect on their careers and field of action and will discuss with you the perspectives for young scientists. Furthermore, participants will be given additional opportunities concerning their career management.Additionally, a workshop "Career Development", professional CV check and professional Application Photo shooting will take place at the day.Female and male young scientists, master students, PhD and Post-docs are strongly encouraged to attend this event.
Further information about the sessions you can get here.
For registration check here.
Facebook-Event: https://www.facebook.com/events/588198175014624/