German Neuroscience Society (NWG) Neurobiology Doctoral Students Workshop (NeuroDoWo)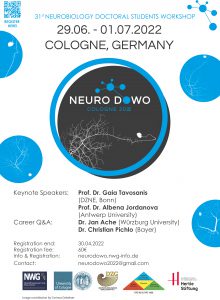 The NeuroDoWo has been organized by doctoral candidates for over 30 years under the patronage of the German Neuroscience Society.
The conference is an exceptional opportunity for master and PhD students to gain experience in presenting and discussing their research, attend career perspective workshops and scientific talks from invited speakers.
In addition, we will organize some social activities to promote networking between the doctoral candidates.
29th of June to 1st of July

Cologne

in person
Registration: https://neurodowo.nwg-info.de/registration
Deadline 01.05.2022
For more information please explore our website under https://neurodowo.nwg-info.de/ or go to ourFAQ section.