Female Career Days 2022: Discover your potential!
20. – 22.09.2022 I 9 a.m. – 5 p.m. I Roncalli Haus & virtual
---
PROGRAM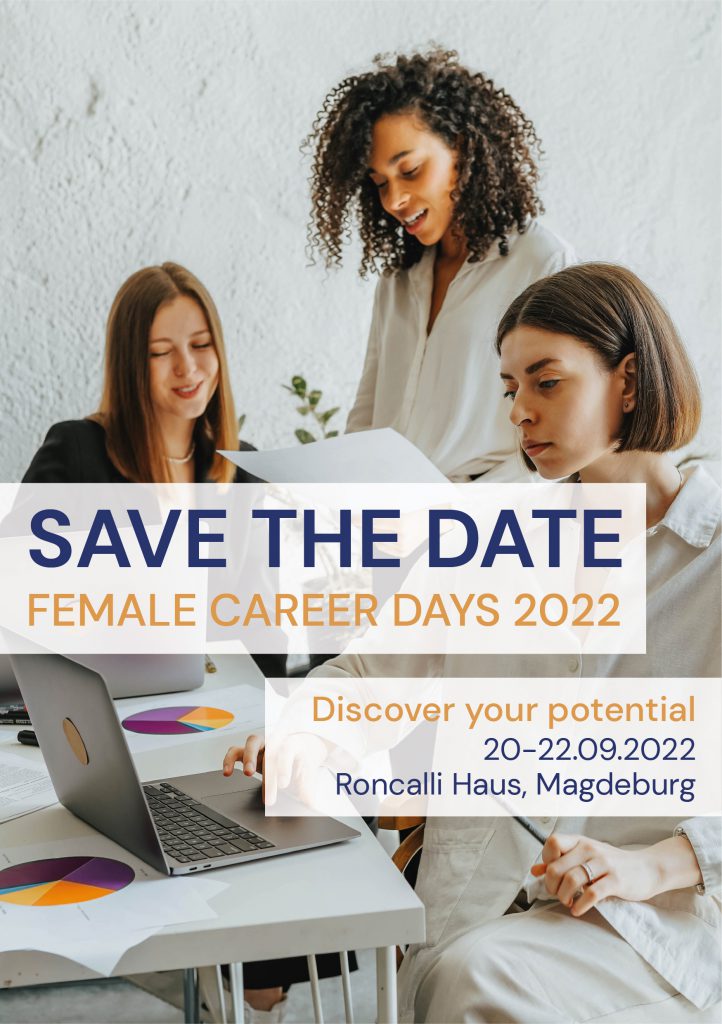 Day 1 20.09.2022 | presence
Round tables with impulse presentations
Career & Family – Dr. Elena Azanon
Advanced Clinician Scientists – Prof. Dr. med. Verena Keitel-Anselmino
Successful in Science – Dr. Jana Tegelbeckers
Academia vs. Industry – Dr. Soumee Bhattacharya
CV-Check DE+EN
CV Photoshooting
Day 2 & 3, 21. – 22.09.2022 | virtual
Workshops
The workshops will run in parallel. Only 1 workshop per person can be booked.
Workshop 1: From PhD to innovator – Discover your groundbreaking ideas
Getting to know the different aspects of an innovator's skill set
Introduction to the Design Thinking approach
Generating & choosing ideas, brainstorming methods
Creating & practising one's own pitch, working in teams
restricted to 20 participants
Workshop 2: Project management & Self leadership
Introduce you to key project management and self-leadership concepts
Start to develop your own individual leadership style and equip you with key communication skills
Expand your support network for scientific and leadership issue
restricted to 16 participants
---
VENUE
Roncalli-Haus
Max-Josef-Metzger-Straße 12/13, 39104 Magdeburg
---
REGISTRATION
Early bird registration will start in August 2022 here.
---
FUNDING
---
COOPERATION PARTNER