Event Series "The German University Landscape"
Almost all of us have reached our limits when trying to understand the German University System. Therefore, with our new series of small events, we would like to give you an overview of the structures at German universities, legal regulations for scientists, career perspectives, funding and financial management.
---
05.05. 4 p.m.: Dr. Barbara Witter "Get to know the structure of OVGU"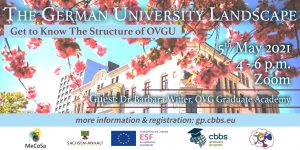 We started our new event series "The German University Landscape" on May 5th, 2021 at 4 p.m. with a talk by Dr. Barbara Witter from the OVGU Graduate Academy. She introduced the main structures of our OVGU, including Graduate Academy, Rectorate, Dean`s offices, Language Center, Library, Advice Centers and additional Research Institutions linked to OVGU.
the event took place via zoom, according to the Corona-regulations.
---
31.05. 3 p.m.: Annette Höschen and Angela Matthies "The tricky academic fixed-term contract act"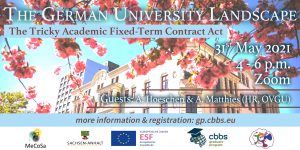 We will continue our event series with a talk by Annette Hoeschen and Angela Matthies from the Human Resources of OVGU. They will try to shed some light on "The tricky academic fixed-term contract act".
The event is free of charge, registration is required.
More information here.
---
Follow-Up Events:
International Office
Career perspectives at a university and research institutions
Funding opportunities
Financial Management – Guest: Dr. Heike Kaasch ( Head of Research Department)