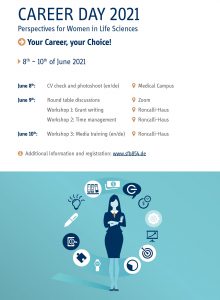 Career Day 2021 – Perspectives for Women in Life Sciences
>> Your Career, Your Choice!
8th – 10th of June

Due to the restrictions since last year, we Corona-proofed the event and can assurly offer you a divers program at the Roncalli-Haus, the medical campus and virtually via zoom.
Under the topic "Perspectives for Women in Life Sciences – Your Career, your Choice!" we offer currently relevant talks, discussions and workshops on our Career Day.
Talks & Round Tables:
New Work & Equal Opportunities in Science
Successful Postdoc
Alternative Career Paths
Workshops:
Scientific Writing: How to develop a promising research proposal?
Time Management – The basics for your PhD in a nutshell
Media Training: Communication in critical situations
Additional Offers:
CV check in German and English
application photo shooting
The Career Day is an event jointly organized by ABINEP, CBBS GP, EKFK, FEM POWER, FSN, OVGU, RTG2408, RTG2413 and SFB 854/MGK. The event is open for all members of our local research associations, especially for female PhD students and young post-docs. Please forward this email to anybody who is interested. All genders are welcome.
When: 8th – 10th of June 2021

Where: Roncalli Haus, Campus of the Medical Faculty, online

Registration: opened from 12th of April until 26th of May
Organization Committee: M. Beyrau, A. Dirks, H. Dömeland, A. Engelhorn, C. Hedtmann, L. Kulikovskaja, J. Peters , I. Sauerland, L. Kulikovskaja