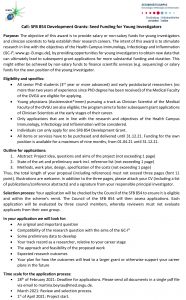 The objective of this award is to provide salary or non-salary funds for young investigators and clinician scientists to help establish their research careers. The intent of this award is to stimulate research in line with the objectives of the Health Campus Immunology, Infectiology and Inflammation (GC-I³, www.gc-i3.ovgu.de), by providing opportunities for young investigators to obtain new data that can ultimately lead to subsequent grant applications for more substantial funding and duration. This might either be achieved by non-salary funds to finance scientific services (e.g. sequencing) or salary funds for the own position of the young investigator. 
Deadline for application: 28.02.2021
Details about the application procedure can be found here.