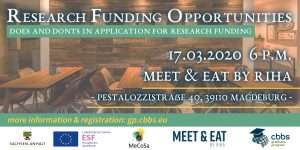 The cbbs graduate program offers in collaboration with MeCoSa a new Nightlecture Series on: The German University System.
We will start with our first nightlecture given by Martina Hagen (research funding consulting/EU projects) on:
Research Funding Opportunities: Does and Donts in Application for Research Funding
17.03.2020

6 p.m.

Meet & Eat by Riha

Pestalozzistr. 40, 39110 Magdeburg
Our expert Martina Hagen will give you an overview about funding sources and helpful advices for grant applications. After the talk, you will have the chance to discuss with our expert in a nice atmosphere with provided food and drinks.
Registration via mail to: contact@gp.cbbs.eu