08.-10.06.2021 Career Day(s) 2021 – Perspectives for Women in Life Sciences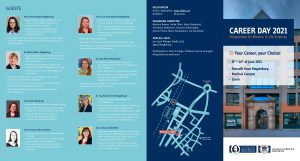 Our annual career day has again met with great interest among doctoral students in various fields. More than 60 PhD and MD students took part in the divers program according to the topic "Your Career, Your Choice" spread over 3 days. On the first day, everything revolved around applications. There were German and English CV checks and an application photo shoot. The following morning, different career paths in science and also "New Work" were highlighted through impulse contributions and subsequent World Cafés. This was followed by workshops on "time management" and the "development of a promising research proposal". The extensive program was completed by 2 parallel workshops on media training at the last day. Here, the participants learned how to talk about difficult scientific issues in front of the camera with special emphasis on the subject of animal experiments.
Impressions
CV-Check / Photo: M. Schubert

World Café session / Photo: A. Dirks

Virtual Career Day / Photo: M. Beyrau
Acknowledgement
We thank our guests Prof. Dr. Katrin Pittius, Karin Lühmann, Prof. Dr. Anne Albrecht, Dr.-Ing. Melanie Fachet, Prof. Dr. Anne Dudeck, Dr. Anne Maass, Tina Krieger and Dr. Barbara Witter for their honest talks, lively discussions and eye opening advices about career paths in and outside science. Our guests would be happy to receive additional upcoming questions by our female participants.
Organization Committee
M. Beyrau, S. Czerney, A. Dirks, H. Dömeland, A. Engelhorn, C. Hedtmann, K. Klinger, L. Kulikovskaja, J. Peters , M. Rosenbaum, I. Sauerland